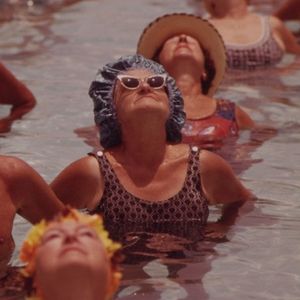 (by Wildfun...and friends)
Aqui teneis el nuevo y monstruoso artefacto sonoro para el verano. Un mix de re-edits de algunos de nuestros productores favoritos, que no podrá faltar este veranito en ningún sarao, vervena, chiringuito playero, disco movil, barbacoa o fiesta piscinera que se precie. Una autentica y refrescante batidora sónica cargada de soul, funk, mambo, rhythm'n'blues, boogaloo...con la que no pararás de bailar y bacilar al caloret del estio.
TRACKLIST:
1.-DJ ZEBRA - "Dutronc Brass Band"
(Mardi Grass Band-"Baby Elephant Walk (Henry Mancini) vs. Jacques Dutronc-"Le Cactus" vs. Small Faces-"Tin Soldier)
2.-KONISHI YASUHARU - "Sex Machine" (Readymade Jazz Defector Remix)
(el dj y productor japonés, ex Pizzicato Five, hace una remezcla bestial, a la vez que elegante del Sex Machine de James Brown)
3.-DAYTONER - "Little Wonder"
(extraido del lp "Surnburst Radio" del dj y productor británico Daytoner)
4.-SONO RHIZMO - "Do You Stuff"
(Sono Rhizmo aka Ralf Droesemayer, miembro de Mo'Horizons y propietario de Agogo Records; confecciona una remezcla de un clásico de Perk Badger, que apareció en la referencia #28 del sello austriaco Resense).
5.-VOODOOCUTS - "Git Fonk"
(dj y productor italiano antes conocido como Voodoofunk)
6.-JUAN LAYA & JORGE MONTIEL - "Money" (J&J Re-edit)
(re-edit del clásico de la Motown, original de Berry Gordy y Janie Bradford, revisitado por este duo de productores hispanos afincados en Londres)
7.-SMOOVE - "Move Ya" (Smoove "Drums Of Death" Remix)
(killer remix del tema de Jimy Hendrix a cargo del británico Smoove)
8.-DORSO - "The Champion" (Dorso Edit)
(acertadísima revisitación de este apabullante tema de rhythm'n'blues instrumental orginal de Willie Mitchell, a cargo del mancuniano Dorso)
9.-SUONHO - "Undivided Love" (Suonho Soul Stomp Edit)
(gran re-edit del dj y productor italiano Suonho, de un clásico de Eskew Reeder aka Esquerita)
10.-GROOVEFINDER - "Ain't Got No/I Got Life" (Groovefinder Remix)
(revisión a cargo de los hamburgueses Groovefinder, del clasicazo de Nina Simone, que ella mismo, había revisado a partir del tema original aparecido en el musical Hair).
11.-ALMIGHTY IZ - "Mambo Italiano" (Almighty IZ Remix)
(potente remix confeccionado por el dj y productor de Denver, Almighty IZ, de la versión de Rosemary Clooney (la tia de George), del clásico de Bob Merrill).
12.-ALMIGHTY IZ - "Let The Sun Shine In" (Almighty IZ - Boy Remix)
(el de Colorado, en esta ocasión remezcla la magnífica versión que hicieron Brian Auger y Julie Driscoll de, curiosamente, otro tema del musical Hair).
13.-MINIMATIC - "If This Is Love" (Minimatic Re-Edit)
(tremenda revisión del productor francés Minimatic, de este tema de The Precisions, un clásico del northern soul de los 60).
14.-SKEEWIFF - "Nitty Gritty"
(monstruosa remezcla a cargo del duo de productores anglo-italiano Skeewiff (Alex Rizzo y Elliott Ireland) del tema de Shirley Ellis. Skeewiff, sin duda, uno de los nombres clave dentro de la escena de los re-edits y las remezclas retro vintage).
15.-SHAMIZO - "Fever" (Shamizo's Edit)
(remix de la versión del "Fever" de La Lupe, a cargo del dj de Miami,Shamizo).
16.-DJ REBEL & DEDY DREAD - "Uhh! ahh!"
(construcción alrededor del "Tequila" de The Champs, a cargo de esta pareja de dj belga-lusa).
17.-SMOOVE - "Summertime" (Smoove Remix)
(brutal, buenísima, diferente; una de las mejores versiones que se hayan hecho del inmortal tema de Gershwin, y mira que se han hecho, algunas increiblemente buenas. Esta la realizó Billy Stewart, transformando las habituales atmósferas jazzisticas de la opera Porgie & Bess, en un crepitante y sudoroso tema de rhythm'n'blues. A su vez el británico Smoove le añade otro poquito mas y acaba confeccionando una de las mayores bombas danzables que yo haya oido últimamente).
18.-SONO RHIZMO - "My House"
(Sono Rhizmo, convierte la magnífica versión, que del clásico "Come On My House" hizo Della Reese (la mas famosa, la de Rosemary Clooney), en simplemente: "My House").
19.-SOUL FRAGMENT - "Cool Jerk" (Soul Fragment Extended Refix)
(remezcla a base de drum'n'bass del "Cool Jerk" de The Capitols, a cargo del proyecto checo Soul Fragment).
20.-SKEEWIFF - "Spanish Flea"
(remezcla drumandbassera a cargo de Skeewiff, de una canción de la década de los 30, que se hizo popular en la versión instrumental del trompetista Herb Alpert).
21.-SKEEWIFF - "Papa Loves Mambo" (Skeewiff Remix)
(de nuevo Skewwif, en esta ocasión retomando un mambo, el famoso "Papa Loves Mambo", popularizado por Perry Como).
22.-FUNK SINATRA - "El Telephone" (Funk Sinatra Edit)
(divertida remezcla de un tema del franco-italiano Nino Ferrer, a cargo del israelita Funk Sinatra).
23.-VOODOOCUTS - "B-Boy Paco"
(cierre fiestero con esta vuelta de turca en clave achili-funk del "Paco, Paco, Paco" de Encarnita Polo).
THE AMAZING WILDFUN'S KILLER SHOW en Facebook